Monthly Archives:
September 2016
---
More than a boxed set, it's an adventure!
20 New Steamy Paranormal & Contemporary Medical Romance
Tales of Shifters, Vampires, Werewolves, Witches, Demons, Doctors, EMTs, Nurses
and More
Now Available for pre-order at #99cents for a limited time!
Get a dose of romance, STAT!
Featuring NYT, USA Today, and Amazon bestselling authors,
we're Coming In Hot with paranormal to contemporary, and sizzling to seductive
bedside manners by the doctors, nurses, paramedics, and more in this **BRAND
NEW & EXCLUSIVE ** boxed set.
What the reviewers are saying…
Oh My Gosh !!! Chill your stethoscopes ladies and gents, because this bundle is Smoking !!! Hot, sexy doctors, nurses and other medical professional really know their stuff but some of them need a little push every now and then. Great set of books by some great authors! Plenty of romance and sex as well as a challenging and fulfilling career set a fast pace for love for the characters in these stories. I LOVED this boxed set!!
5 stars
Danna Lee
 Goodreads
Wow! I absolutely loved this entire boxed set! A great mix of hot and sexy shifters, vampires, doctors, nurses and more in these paranormal and contemporary romance books by some very talented authors! There were a few authors I already follow, gained some new favorites and some I will definitely be following for the future!
For the price of this boxed set you simply can't go wrong.
Abby Hayes
Goodreads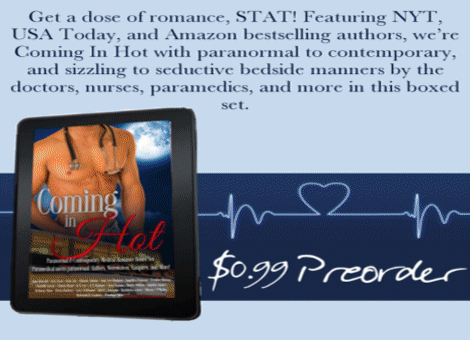 July 15th – September 30th
---
Hello Lovies!
Long time no post. First a few updates. I've hired a personal assistant to help me manage my ARC list, so if you recently joined there might be a little delay in getting your complimentary copy of my books for review!
For those of you asking how can I get free books you can email CandyCapPublishing at gmail.com or fill in the webform to sign up for the list. Serious reviewers only please 🙂 http://goo.gl/forms/kCQhGVgjkb1P0Axi2
Once you've completed your review leave the link to it here. Periodically a reviewer will be selected to win a gift card!
http://goo.gl/forms/0eBzop6MzKVr4SZy1
If you want more chances to win join my Street Team! This week's street team prize is treats from France!!!
Find us here: https://www.facebook.com/groups/579799565524743/
Now to the topic at hand…
I've had a few people ask me about my latest book, the Roman's Woman and one aspect that's a departure for me. What follows is a SPOILER if you haven't read the book, but not a huge one.
For the first time my heroine is NOT a virgin. Several of you were disapointed by that and I know why!
First I want to address why I (mostly) write about virgins in the first place. It is intentional. The Singular Obsession books are an homage to all of those red cover Harlequin books I read when I was younger. I wrote Making Her His after reading like 50 Lynne Graham novels back to back to back.
You'll recognize versions of those Harlequiny romantic tropes in this series. This is also a very deliberate choice. I wanted to do my own versions of those stories, but with certain "improvements". I like my women strong. I detest emotional immaturity in my male and female leads. I once said my goal was to write characters you didn't want to punch in the face. Yes, my men often do stupid things, but hey…they're men 😛 Anything truly stupid they do will be mitigated by their unwavering devotion to their heroine.
Most of these books I'm referencing were about virgins. It's one of the reasons I loved them. While in real life I would never expect that a woman abstain, I do enjoy it in fiction. I'm not making a statement about women or sex. I'm a strong advocate for equal rights when it comes to a women's reproductive health. I don't believe women have to wait for marriage or can't enjoy casual sex. My stories are meant to be a pleasurable diversion and nothing more.
In books a virgin has an opportunity for clean slate, romantically speaking. They can have a fresh start without the baggage that comes from past disappointments or even past triumphs. There are, of course, exceptions. What makes a character a full-fledged person in my mind changes for each one.
Writing about virgins allows me to write a world where their first (or let's be honest second) experience is an earth-shattering pleasure-filled dream. It sets a precedent for all their subsequent sexual interactions. Maybe it's unrealistic, but I don't write true-to-life fiction for a reason. The books I read and want to write are about as far from real life as I can get. I want the fantasy.
But it has to feel real. Yes, I love writing virgins—provided it makes sense with their life experience.
When I pictured Sophia, The Roman's Woman (aka Gio's true love), she was exceptional. The upbringing and circumstance of my other heroines led to them being virgins quite naturally, but Sophia just didn't work that way. She's a bit older than the others, more established. I didn't think someone at her career level would be inexperienced. Additionally, I wanted her ex to play a role and that meant she couldn't be a virgin.
To some extent I don't write these books. I write what I see in my head. If everything is going well, it's a process akin to writing down what's happening in a movie. For this reason, I can't promise all my heroines will be virgins. But most of them will be—when it makes sense. It is my fantasy after all 😛
---
---