More than a boxed set, it's an adventure!
20 New Steamy Paranormal & Contemporary Medical Romance
Tales of Shifters, Vampires, Werewolves, Witches, Demons, Doctors, EMTs, Nurses
and More
Now Available for pre-order at #99cents for a limited time!
Get a dose of romance, STAT!
Featuring NYT, USA Today, and Amazon bestselling authors,
we're Coming In Hot with paranormal to contemporary, and sizzling to seductive
bedside manners by the doctors, nurses, paramedics, and more in this **BRAND
NEW & EXCLUSIVE ** boxed set.
What the reviewers are saying…
Oh My Gosh !!! Chill your stethoscopes ladies and gents, because this bundle is Smoking !!! Hot, sexy doctors, nurses and other medical professional really know their stuff but some of them need a little push every now and then. Great set of books by some great authors! Plenty of romance and sex as well as a challenging and fulfilling career set a fast pace for love for the characters in these stories. I LOVED this boxed set!!
5 stars
Danna Lee
 Goodreads
Wow! I absolutely loved this entire boxed set! A great mix of hot and sexy shifters, vampires, doctors, nurses and more in these paranormal and contemporary romance books by some very talented authors! There were a few authors I already follow, gained some new favorites and some I will definitely be following for the future!
For the price of this boxed set you simply can't go wrong.
Abby Hayes
Goodreads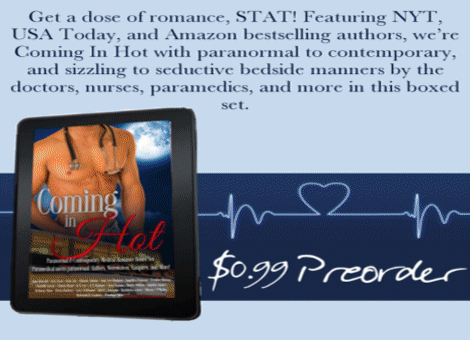 July 15th – September 30th